Flea Markets in the Ormond Beach, Florida area: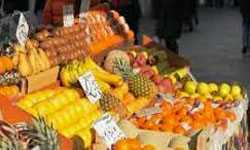 Ormond Beach Farmers Market at Rockefeller Gardens
Hosted by Ormond Beach MainStreet
25 Riverside Drive
Ormond Beach, FL 32124
386-451-2138

Longhauser & Longhauser
1 Laurel Oaks Circle
Ormond Beach, FL 32124
(386) 671-0776

Cornucopia
1474 W Granada Blvd # 440-205
Ormond Beach, FL 32124
(386) 734-3715

Daytona Flea & Farmers Market
2987 Bellevue Avenue
Daytona Beach, FL 32124
(386) 253-3330

The Ormond Beach Farmers Market features fresh produce and baked goods, along with a wide variety of other items, such as jewelry and arts and crafts. Itís a fun time for the whole family, with face painting for the children, live music and other entertainment. The Ormond Beach Farmers Market is open every Thursday, 8:00am to 1:00pm.

Of the flea markets listed above, the Daytona Flea and Farmers Market is the largest. In fact, itís billed as one of the largest flea markets in the world, with almost anything you can imagine for sale. The vendors are super friendly and helpful, and wide aisles that make it comfortable to move around the booths. Florida state law prohibits smoking inside the flea market, and dogs are not allowed to walk the aisles inside the market (although they are allowed, if carried or in a cart.) Wheelchair and stroller rental is available at the Information Station and the main entrance has handicapped parking (in the west parking lot.) If you're from out of town, the Daytona Flea Market is easy to reach. Itís just under a mile from the airport and directly off I-95 and I-4. Itís open rain or shine, every Friday, Saturday, Sunday 9 A.M. to 5 P.M. There are two street entrances to the flea market: the Tomoka Farms Road entrance which leads to the south parking lot. The Bellevue Avenue entrance leads to the west parking lot and also to the Main entrance to the market building.